Competitive business environment
As a geostrategic nucleus, Tudela has advanced infrastructures and communication technologies
The geographical situation and its excellent situation with the rest of Spain, France, Italy and Portugal, place Tudela as a strategic enclave for the location of production and distribution plants to supply the national and European market.
Distribution and transport
Within a radius of 300km are the most important cities nationwide such as Madrid, Barcelona, Valencia, Zaragoza and Bilbao; and the main cities of southern France, Toulouse, Montpelier and Perpignan. It has the first Intermodal Station in Spain and a stop of the high speed train (AVE) in Tudela is planned.
By road it is connected by highway with Zaragoza, Logroño, Bilbao and Pamplona, the highway of Madrid being under construction.
By rail there is communication with Zaragoza, Logroño and Pamplona, the high-speed train (AVE) is in the process of being built. There are three airports less than 100 km away.
As for maritime connections, it is located two hours from the Port of Bilbao with access to the Atlantic and three hours away from the Mediterranean ports considered as fundamental by the European Commission: Valencia, Tarragona and Barcelona.
A Multimodal Maritime Platform, known as the dry port, is located in the Agri-Food City of Tudela, which offers the exporting and importing companies of La Ribera and its area of influence faster and more competitive access to maritime transport.
Energy infrastructures
Natural gas: Industrial and domestic use.
Electric power: High voltage transmission lines of 380-220 and 66 KW with substations.
Alternative energies: Montes de Cierzo I and II wind farms with a total installed capacity of 59.5 MW and a 1.2MW solar plant, with energy storage system, the first installed in Europe.
Telecommunications
Tudela and other populations in its surroundings stand out for the degree of development and implementation of new technologies and their associated infrastructures.
In Tudela, access technologies are available through LMDS, ADSL and SHDSL, and access via cable through FC networks and high-capacity satellite accesses.
Tudela is part of the trans-European transport networK
The Mediterranean Corridor is the beginning of a great axis that crosses the south of France, the north of Italy, Slovenia and Hungary.
The Atlantic-Mediterranean Corridor will allow to unite these two great routes.
The Central Corridor runs through the Iberian Peninsula from North to South.
The town has four public industrial estates (Polígono Municipal, Las Labradas, Montes del Cierzo and the Polígono de Actividades Económicas), as well as two private estates (Service Center and La Barrena)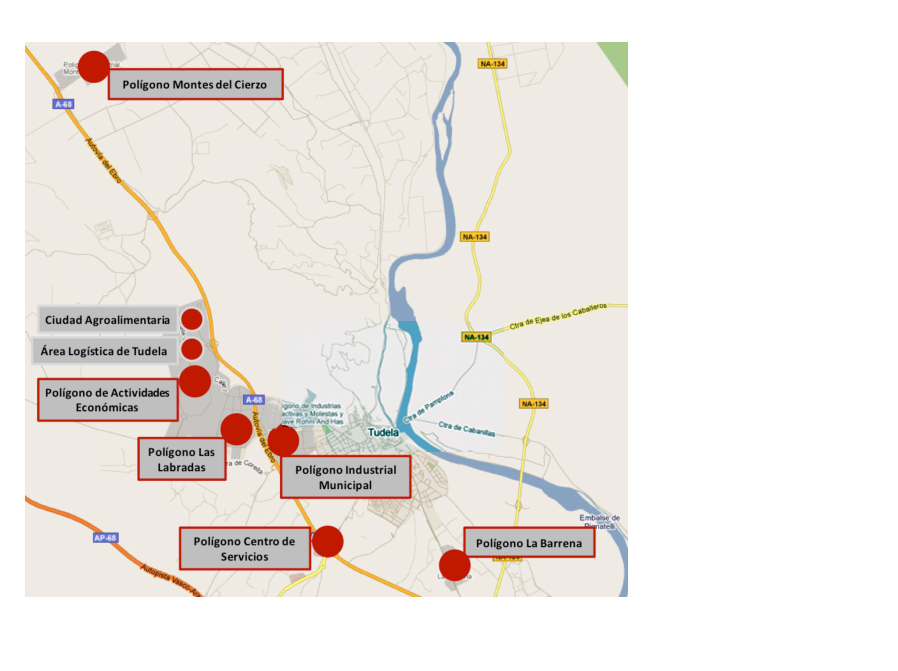 The sale prices of industrial land have been reduced, facilitating access to new industries. The average sale price of industrial land in Polígono Montes de Cierzo is 12.19 € / m2.
The City Council of Tudela, in collaboration with the Government of Navarre, has set up two business incubators, designed to welcome newly created entities or formally not constituted, innovative or with high growth potential in their business model.
The main objective of business incubators is to encourage the birth and growth of new companies that contain an innovative component in their business model. For this reason, each company has personalized technical support necessary for its growth and consolidation in the market with access to specific aids and resources to achieve it. And all this, for a lower rental cost than the market.
The Central of Common Infrastructures (CIC), is the energetic heart of the Agrifood City of Tudela (CAT). It is an innovative project unique in the world, consisting of the production and centralized supply of energy to companies that are installed in the modern business park. The goal of the CIC, is to avoid investment in individual facilities of each company. Thanks to this innovative system savings of up to 15% in avoided energy consumption costs are obtained. Synergies are sought in all processes and services, so that energy efficiency exceeds 70%.
Navarra has an accelerator for companies in the agri-food sector.